We know what it's like to feel helpless. We take medical malpractice personally.
Medical negligence can result in catastrophic injuries or wrongful death, prompting rightful lawsuits by the victims. According to the Journal of Patient Safety, between 210,000 and 440,000 patients die as a result of medical negligence or malpractice each year. In other words, medical errors are the
third-leading cause of death in America
. They fall behind heart disease and cancer, respectively. A Cleveland medical malpractice lawyer is ready to help the victims of these errors.
After an injury caused by a doctor or other healthcare provider, you may be entitled to recover compensation for your losses. A dedicated personal injury attorney has handled numerous cases through the area. This is because our team is committed to fighting for the compensation you deserve. Medical malpractice can have devastating, lifelong effects. You will need to cover medical bills and other losses associated with injuries as a result of being a victim of medical negligence. Let us help.
What is Medical Malpractice?
Medical malpractice is defined as an error on the part of health-care providers that results in an injury to a patient. Doctors, nurses, or another hospital employee can cause the injury. Medical negligence is another term for malpractice. To prove negligence, you must show the medical provider violated the accepted standard of care. You must also prove that this specific violation resulted in serious harm to the patient. In other words, malpractice occurs when a medical care provider fails to provide care within the requisite standard of care, which leads to injury or death.
It is important to note, however, that a poor outcome or surgical complication does not necessarily mean that medical care provider was negligent. Our medical malpractice attorneys in Cleveland can help you determine if your health care provider did not provide acceptable care or if medical mistakes occurred.
When an unexpected death, brain injury, paralysis, loss of limb, or some other type of catastrophic injury occurs under medical care, a thorough investigation should take place. Of course, someone with health care professional negligence case experience should handle the investigation.
Tittle & Perlmuter has that experience. If you have been hurt or lost a loved one as a result of doctor error, call Tittle & Perlmuter. Our experienced attorneys have recovered millions of dollars for their clients and will pursue every dollar of compensation you deserve for your medical negligence case.
What is Medical Malpractice? Allen Tittle Explains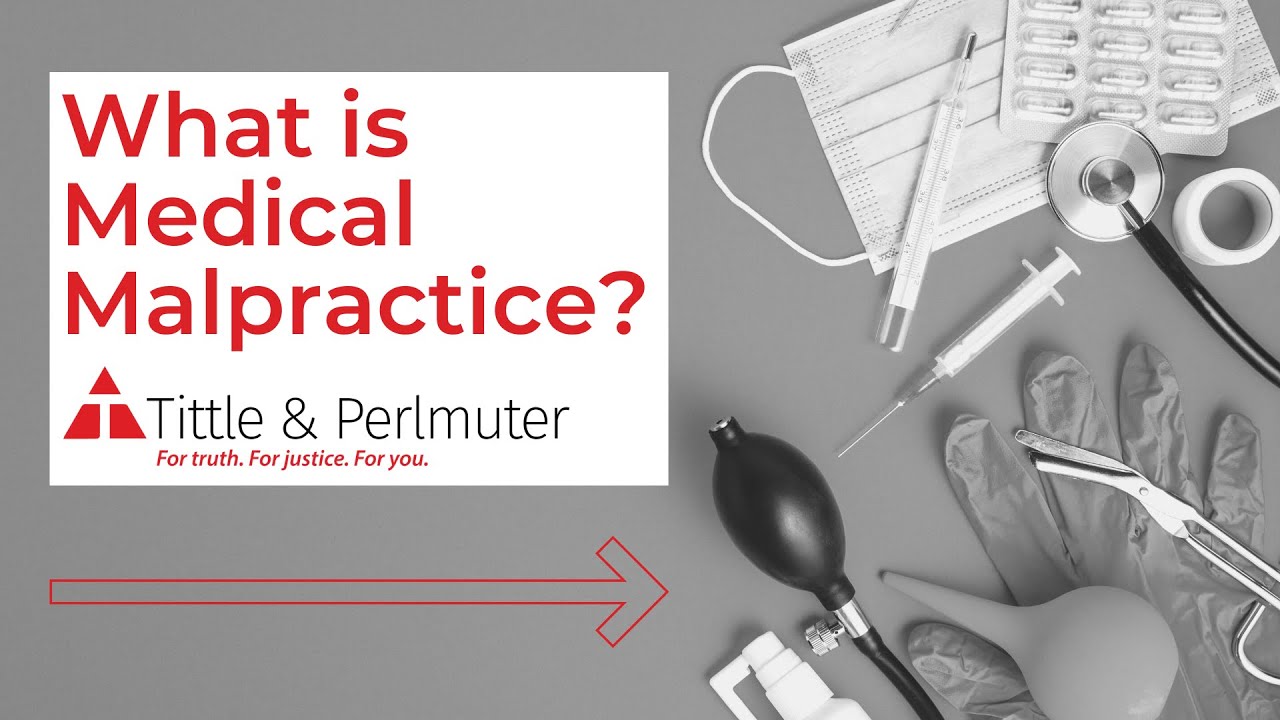 Types of Medical Malpractice Cases
Medical malpractice can come in a variety of forms, the effects of which can vary significantly. Typically it depends on the patient's situation. The following are common causes of patient injury or death. Related injuries should be investigated to determine if a medical provider was negligent.

Birth Injuries, including Brachial plexus injury (Erb's palsy, Klumpke's palsy, and other nerve damage), cerebral palsy and other brain damage
Diagnostic Errors
Radiology Errors
Misdiagnosis of a heart attack or stroke
Nursing Home Abuse, including bed sores (pressure ulcers), injuries from falls, and malnutrition and dehydration
Hospital Malpractice
Failure to provide a necessary test
Leaving surgical instruments in the body
Inadequate staffing, training, or supervision of staff
These claims can be made against any type of medical care provider including doctors, nurses, midwives, therapists, chiropractors, hospitals, clinics, and other medical providers.
However, be aware that there are strict time limits you must meet to file a lawsuit. The courts strictly enforce these complex time limits. Generally, in Ohio, there is only one year to bring a medical negligence claim, unless an exception applies. It is in your best interest to speak to a lawyer in Cleveland who is familiar with physician malpractice as soon as possible.
When to File a Lawsuit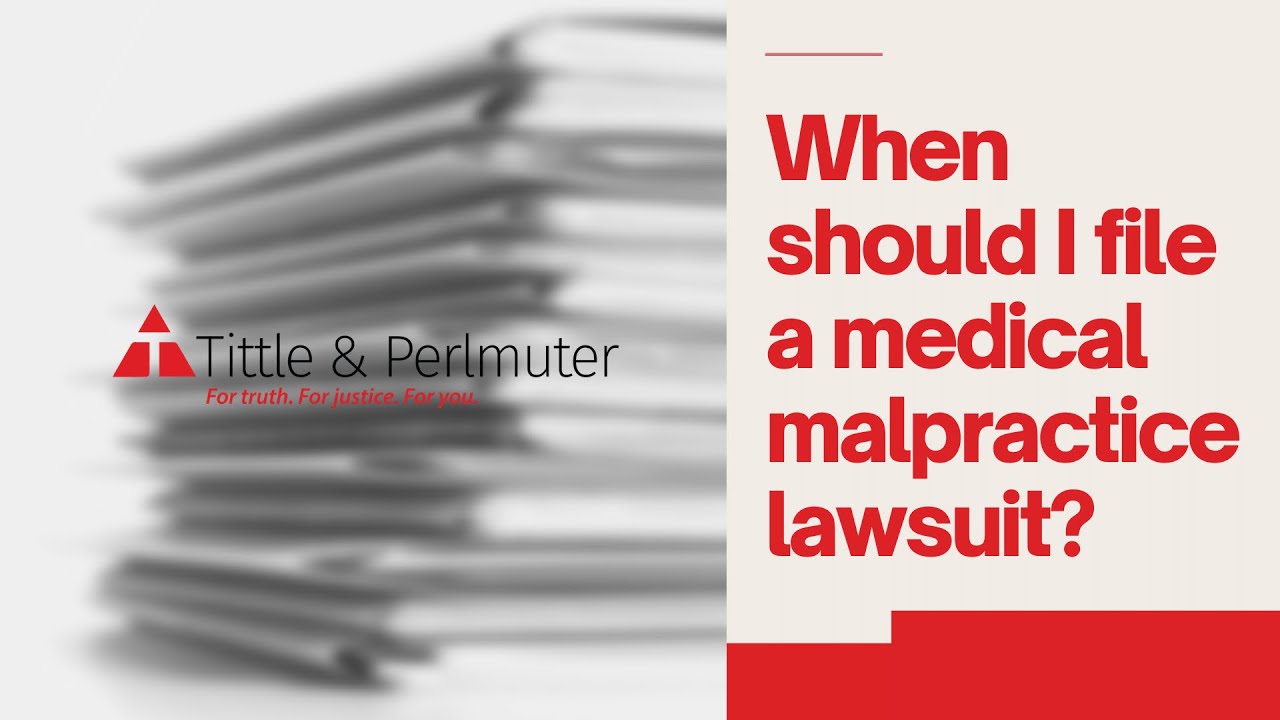 Process of a Medical Negligence Claim
Tittle & Perlmuter prosecutes these cases all throughout Ohio, including Cleveland and Cuyahoga County.  We treat each one of our cases with extreme care. You will never feel like "just a number" when you work with us. We have access to a network of medical experts who can weigh in and share the facts of your case. Let us do the work while you focus on healing.
At Tittle & Perlmuter, our medical malpractice attorneys only agree to take on the most serious malpractice cases. If we agree to accept your case, we do so with the confidence that your case is genuine and that you deserve compensation due to the negligence of a medical provider. Additionally, it means that we firmly believe that we can prove these facts at trial. In other words, when our firm accepts your case, it is because we are prepared. We are ready to investigate right away. Then, we will take your case to trial if the insurance company will not settle for a fair amount.
A Cleveland Medical Malpractice Attorney Can Help
We do not tolerate doctors or nurses who fail to follow the rules all others must follow, which is why we will fight hard for you to receive the justice and compensation you deserve. When you are ready to act, give us a call – it will cost you nothing to have your potential claim evaluated. We welcome the opportunity to hear your story.
For a free claim evaluation and consultation, call now or fill out our online contact form. We will respond promptly. We can arrange evening and weekend appointments, and we can come to you.
Don't wait to act! A Cleveland medical malpractice lawyer has deep expertise, unshakable passion, and record of success necessary to fight for you from the very first moment you decide to pick up the phone and call us, all the way to the best possible outcome we can earn. There is NO FEE if we don't win, so call now!
How Hard is it to Prove a Medical Malpractice Case?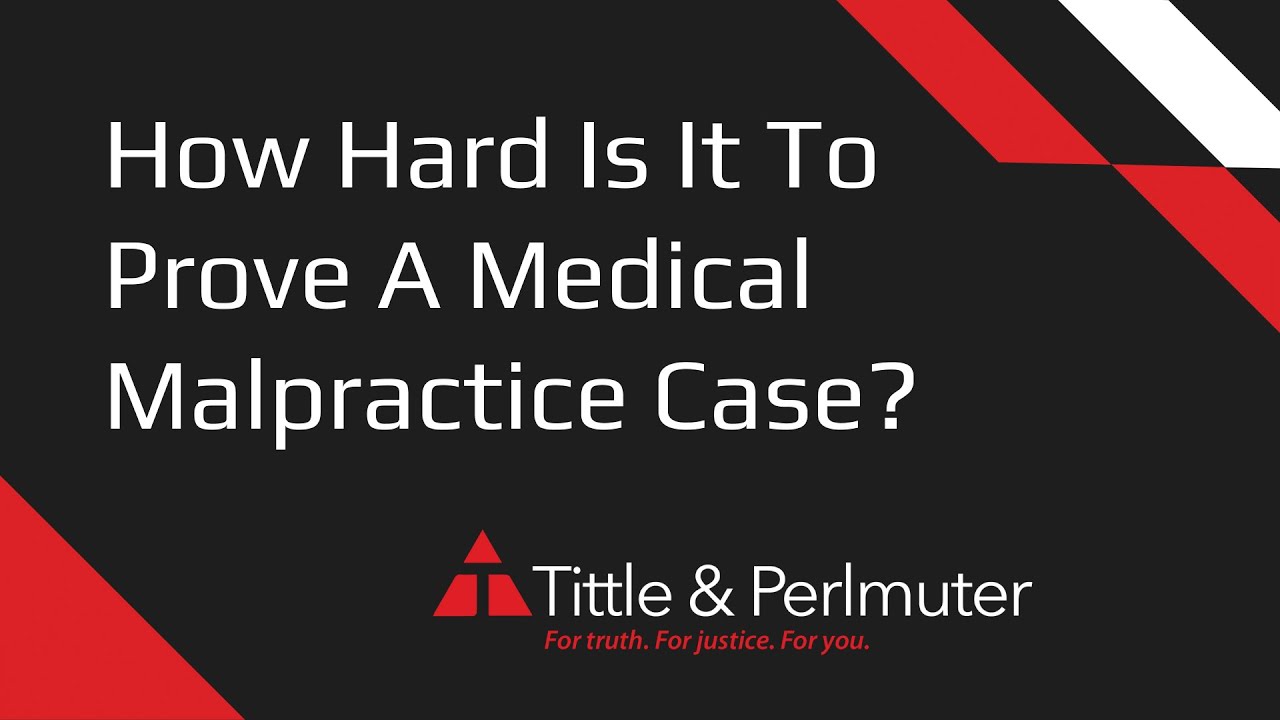 Local Resources
Courts for Medical Malpractice Cases
Cuyahoga County Common Pleas Court
1200 Ontario St., Cleveland, OH 44113
This court is located in the Justice Center in downtown Cleveland. The court advises you to allow for extra time to find parking because it is limited in the area. The Huntington Parking Garage is close, but pricey for a day of parking. A more affordable option is the WareHouse District Parking closer to the Flats, but you'll have to walk a few blocks. Another option to get to the court is to take the Rapid and avoid a downtown parking cost altogether. The hours of the court are Monday – Friday from 8:30 – 4:30. If you have any questions for the court, call 216-443-8560.
Summit County Common Pleas Court
209 S. High St., Akron, OH 44308
The common pleas court for Summit County is located in the downtown Akron district, near the Akron Rubber Duck's stadium. There are several parking lots and decks available around the area, with ticket pricing ranging from $1 – $6 depending on the location and how long you stay. An idea to keep in mind is that parking is not validated by the court. The court is open Monday – Friday from 8:00 – 4:00. For any questions or directions, give the court a call at 330-643-2162.
Lorain County Court of Common Pleas
225 Court St., 6th & 7th Floors, Elyria, OH 44035
The Common Pleas Court for Lorain County is located in downtown Elyria in the Justice Center building. Clients who are going to the court for trial can find parking at the Washington Avenue Parking Lot nearby. Court hours are Monday – Friday from 8:00 – 4:00. If you have questions on how to find the facility or what you need to know before court, call the Justice Center at 440-329-5000.
Cuyahoga County Hospitals
Cleveland Clinic
Main Campus: 9500 Euclid Ave., Cleveland, OH 44195.
The Cleveland Clinic is one of the top medical centers in the U.S. and ranks in the top two for cardiology and heart surgery, gastroenterology and GI surgery, nephrology, rheumatology, and urology. In addition to their main campus hospital, the Cleveland Clinic has facilities in Florida, Nevada, Canada, and the United Arab Emirates.

Euclid Hospital
Address: 18901 Lakeshore Blvd, Euclid, OH 44119
Euclid Hospital is part of The Cleveland Clinic Health System. The U.S. News & World Report awarded Euclid Hospital with the highest rankings in Common Adult Procedures and Conditions for Knee Replacement. The hospital has 370+ beds and offers emergency services, sub-acute care, rehabilitation and outpatient care.
Fairview Hospital
Address: 18101 Lorain Ave, Cleveland, OH 44111
Fairview Hospital is part of The Cleveland Clinic Health System and was founded in 1892. It currently provides over 450 beds and is a faith-based hospital. It is fully accredited and has achieved national rankings in cardiology & heart surgery, gastroenterology, GI Surgery and Pulmonology, and has obtained the highest rankings in seven other specialties. The facilities include a birthing center, a cancer center, an emergency and level II trauma center, a heart center, and surgery.
Hillcrest Hospital
Address: 6780 Mayfield Rd, Mayfield Heights, OH 44124
Hillcrest hospital is a comprehensive-care hospital and is part of the Cleveland Clinic Health System. It has been nationally recognized as one of America's 100 Top Hospitals over 10 times and has 500+ registered beds. The facilities include both adult and pediatric emergency departments, a family maternity center, the Cleveland Clinic Neurological Institute, cardiac services, cancer care, and more.
Lutheran Hospital
Address: 1730 W 25th St, Cleveland, OH 44113
Lutheran Hospital is an acute-care facility with specialties in orthopedics and spine, behavioral health, and chronic wound care. It is part of the Cleveland Clinic Health System and has won awards in leadership and key quality measures. Lutheran Hospital provides 203 beds and is located conveniently close to downtown, fine dining, and shopping in Ohio City.
Marymount Hospital
Address: 12300 McCracken Rd, Garfield Heights, OH 44125
Marymount Hospital is a member of The Cleveland Clinic Health System and is an acute-care hospital with 315 registered beds. Occupying 26 acres, the campus includes a medical office building, a behavioral health center, a critical care tower, and an award-winning surgery center. Marymount has achieved the highest rankings in heart failure, colon cancer surgery, and chronic obstructive pulmonary disease.
Rainbow Babies and Children's Hospital
Address: 11100 Euclid Ave, Cleveland, OH 44106
Rainbow Babies & Children's Hospital is a part of the University Hospitals Case Medical Center and was founded in 1906. The hospital offers treatment in a variety of areas including cancer, heart disease, cystic fibrosis, metabolic disorders, and specializes in high-risk and premature newborns.
South Pointe Hospital
Address: 20000 Harvard Rd, Warrensville Heights, OH 44122
South Pointe Hospital is a Cleveland Clinic Hospital and is recognized for achieving the highest rankings in Gastroenterology & GI Surgery, Neurology & Neurosurgery, and Heart Failure and Chronic Obstructive Pulmonary Disease.  The hospital has 173 registered beds and is ranked as one of the Top 10 hospitals in Cleveland.

Southwest General Health Center
Address: 18697 Bagley Rd Bldg C, 310, Middleburg Heights, OH 44130
The Southwest General Health Center is a partner of University Hospitals and is a certified level III trauma center as well as a primary stroke center. With a 354-bed capacity, the services Southwest provides include behavioral health, cancer care, emergency services, heart & vascular, neurosciences, and more.
St. John Medical Center
Address: 29000 Center Ridge Rd, Westlake, OH 44145
St. John Medical Center is an acute care hospital and is part of the University Hospitals community. The facilities are located in Westlake, Ohio and has 221 registered beds along with an emergency department. St. John provides a variety of services including a heart center, ob/gyn, orthopedics, behavioral health, comprehensive ancillary, and support services.
St. Vincent Medical Center
Address: 2351 E 22nd St, Cleveland, OH 44115
St. Vincent Medical Center is Cleveland's first and only downtown hospital. The Medical Center houses the award-winning Spine and Orthopedic Institute and Center for Bariatric Surgery. Open in 1865, St. Vincent's provides cardiovascular, emergency medicine, primary care, occupational health, behavioral health, and addiction medicine services.
University Hospitals Ahuja Medical Center
Address: 3999 Richmond Rd, Beachwood, OH 44122
The UH Ahuja Medical Center is situated on 53 acres and is designed to be one of the safest and technologically advanced community hospitals in the U.S. UH Ahuja currently houses 144 beds on seven floors but has plans to grow to 600 beds. The hospital provides a full range of services with an emphasis on overall wellness and preventive medicine.

University Hospitals Bedford Medical Center
Address: 44 Blaine Ave, Bedford, OH 44146
University Hospitals Bedford Medical Center is a campus of UH Regional Hospitals, housing 88 full service beds. The facilities include the Harrington Heart & Vascular Institute, an MRI Suite, and a Wound Care and Hyperbaric Medicine Center. UH Bedford specializes in cardiovascular medicine, family medicine, female pelvic medicine, gastroenterology, general surgery, gynecology, internal medicine, neurology, ophthalmology, orthopedics, pain management, pulmonology, urology, and wound care.
University Hospitals MacDonald Women's Hospital
Address: 11100 Euclid Ave, Cleveland, OH 44106
University Hospitals MacDonald Women's Hospital is the only hospital in Ohio dedicated specifically to women's health. It's ranked as one of America's Best for Gynecology by U.S. News & World Report and is a leading center in women's health research. There are over 10 specialty programs and clinics offered onsite including family planning center, pregnancy diabetes boot camp, menopause clinic, and more.
University Hospitals Parma Medical Center
Address: 7007 Powers Blvd, Parma, OH 44129
University Hospitals Parma Medical Center offers acute and sub-acute inpatient care, specializing in acute rehabilitation, bariatric surgery, cancer, heart and vascular, orthopedics, pain management, and robotic surgery. UH Parma Medical Center is a preferred partner for all major managed care plans and offers a full spectrum of services.

University Hospitals Richmond Medical Center
Address: 27100 Chardon Rd, Richmond Heights, OH 44143
University Hospitals Richmond Medical Center is a full-service teaching hospital, offering 125 beds in the facility. The Medical Center offers more than 30 specialties from over 100 physicians and hundreds of nurses to serve the community.
University Hospitals Seidman Cancer Center
Address: 11100 Euclid Ave, Cleveland, OH 44106
University Hospitals Seidman Cancer Center is located on the main campus of University Hospitals Cleveland Medical Center in Cleveland, Ohio. UH Seidman Cancer Center opened in spring 2011 and offers the latest treatment protocols and the most advanced technology in the industry. The 375,000-square-foot hospital houses a resource center with a full-time librarian and computers, The Schneider Healing Garden, a meditation room, and the Wolfgang Puck Cafe.

University Hospitals Cleveland Medical Center
Main Campus: 11100 Euclid Ave, Cleveland, OH 44106
University Hospitals Cleveland Medical Center is ranked among the nation's best in 8 different children's specialties. The facilities include The Alfred and Norma Lener Tower, the Samuel Mather Pavillion, Lakeside Hospital for adult medical/surgical care, UH Rainbow Babies & Children, UH MacDonald Women's Hospital, UH Seidman Cancer Center, and University Psychiatric Center. It's an affiliate of Case Western Reserve University and provides 1,032 beds in-house.
MetroHealth
Main Campus: 2500 MetroHealth Dr., Cleveland, OH 44109
MetroHealth's main campus is only a 10 minute drive from Tittle & Perlmuter's Cleveland office. The MetroHealth System is one of the three major healthcare systems in Cleveland, founded in 1837. The facilities include a Level I Adult Trauma Center, a Level II Pediatric Trauma Center, and is one of the only verified burn centers in Ohio. MetroHealth established its Metro Life Flight air ambulance service in 1982 and has since completed over 90,000 medical missions, training crews from all over the world.
Ohio Medical Malpractice Guide